Laser labels are primarily used in laser printers, but can be used in ink-jet printers and indeed in photocopiers.  ATLAS for Industry make these in a range of standard formats.  Some customers request laser labels in colours, eg:- Yellow / blue / green.
1/sheet
2/sheet
3/sheet
4/sheet
6/sheet
8/sheet
12/sheet etc.
(most of above are available ex-stock, in "butt-cut" and "die-cut")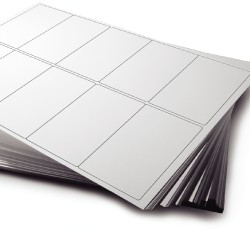 Do you require a sample?
We will send you a sample of any of our products